In the 2022 World Cup qualifying match between Iran and Cambodia, in addition to the 14-0 destruction of the home team, is a historical event: for the first time since 1981, Iranian women are allowed to be present on Stadium to cheer the male players.
Part 1: Historical day
According to information from the FarsNews agency, there are 150 police officers on duty to separate the sitting area between male and female soccer fans with a distance of up to 200m. A number of photos on social networking sites show a fence surrounding the area for female fans. 3,500 tickets were issued for beautiful female fans, although the 5% seat on the football pitch in Tehran doesn't permeate it – it is a huge improvement whether it is still discriminatory or not of the feminist movement in Iranian football.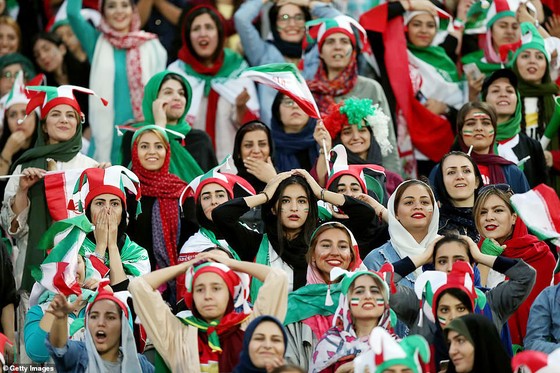 All female fans present at Tehran respectfully chanted "Blue Girl" Sahar Khodayari – a 19-year-old girl committed suicide last month, creating a climax of the struggle that FIFA cannot help but decisively with the Iranian Government.
A fan of Iran's most famous club, Esteghlal, the young Khodayari football girl last year disguised as a teenager to try to enter the stadium and was arrested. Feeling offended and unfair, early September, Khodayari set himself on fire outside the court and died of severe burns. The girl's death has sparked rage in society and online.
Many internet users have called for FIFA to ban Iran from participating in international football competitions, and call for boycott of Iranian football matches. FIFA Infantino president announced FIFA would act – including banning Iran from organizing World Cup qualifying matches of 2022, if Iranian football takes any action to prevent women from coming to the field.
Raha Poorbakhsh, one of the 3,500 female viewers who watched the historic match on October 10 as a football reporter, happily exclaimed: "I still can't believe that the female fans who came into the field came true. After so many years as a sports reporter, I could only write articles based on watching TV, I could finally experience the true feeling on the stadium".
Shortly after the match, Twitter users in Iran began calling for the hashtag #WakeupFIFA in their posts to urge the Iranian Football Federation to allow more female fans to enter the field, not just is in the match against Cambodia recently. Perhaps they know, in order to really feel comfortable going to the football field, they can't stop fighting.